portfolio
"Simplicity is the ultimate sophistication."
Leonardo da Vinci
Maui Cyber Design has been providing small business owners with creative, cost-effective website design and marketing since 1997.
Below is a sampling of web sites produced by Maui Cyber Design. Many of the sites before were produced well over 5 years ago, and some over 10 years ago!
In recent years I have been working with agencies that sub-contract my design and marketing work. Please contact me for references and specific samples.
These days, I have been moving more into developing wordpress websites. Though wordpress sites can be more complex to develop initially, I have found them to easier to update and far more user friendly for the client, resulting in significant cost savings and flexibility later down the line.
---
FishMaui.com
FishMaui.Com offers Maui visitors information on Maui's wide variety of Maui fishing opportunities. Sister site: mauifishing.com. Top ranking in Google for the terms "Maui sportfishing", "Maui fishing", "Maui bottom fishing", "Maui shore fishing"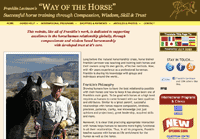 Franklin Levinson's "Way of the Horse"
Extensive site featuring numerous image gallieries and and a very active Help Center with over 850 different articles. Ranked #1 in Google for the term: "horse therapy". Top 10 for "Horse Behavior". I have worked with Mr. Levinson since 1999.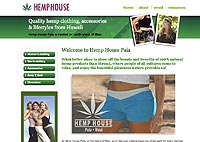 Hemp House Paia
E-commerce, all natural hemp products.

Maui Menus Online
DOMAIN SOLD
Currently #1 in Google for terms: "Maui restaurants" and "Maui Dining", Maui Menus Online was fashioned after their print publication, Maui Menus. The online version, built using the Joomla content management system, features a searchable database of Maui restaurants.

David Olsen Photography
I did the intial design for this photography web site in 2004. Client now updates the image gallery on his own.

David Vanzo Productions
Birds simply "scream" tropical! Note, server can be a little slow. I have particular hosting companies I like to work with. Ask me if you're not sure.

REPS Fitness Center of Maui
An exclusive personal training center located at the Diamond Resort in South Maui. Client updates this website herself online using a specially designed editor. #1 in Google for term: "Maui fitness"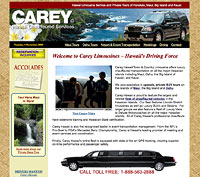 Carey Hawaii Limousines
Carey Hawaii Limousines is one of our oldest and dearest clients. #1 in Google for term: "Hawaii Limousines" I am currently begging them to updgrade.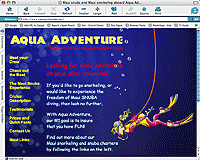 Aqua Adventures
This was a fun little web site. It has a java applet which displays animated bubbles following your cursor. I try to avoid applets. Fancy effects can detract from a site's message, not to mention causing problems for some browsers. The client thought it was fun though, so we left it in.

Ekahi 42E - A Wailea Maui Rental
This website was created for a condo owner with an Ekahi unit in south Maui. 6 page site, with a virtual tour.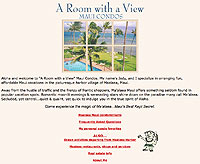 "A Room with a View"
This is a fun regional site which focuses solely on the Maalaea Harbor area, and emphasizes the personal touch. Two very important elements here: niche marketing and personality. #1 in Google for term: "Maalaea Maui" and "Maalaea condos"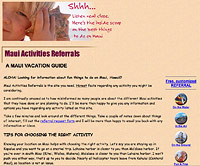 Maui Activities Referrals
This site offers personal recommendations on many of Maui's most popular activities.